| | | | |
| --- | --- | --- | --- |
| Theresa & Danny on Channel 4 News. Watch Theresa giving new year resolution tips! | Theresa on Channel 5 News. Watch Theresa giving exercise & nutrition tips for the holidays. | Danny & Theresa along with their trainers were featured on Channel 5 News. Watch them discuss their metabolism machine! | |
Owners Danny & Theresa Gordon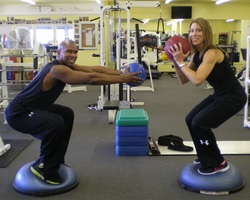 The Body Studio for Fitness is a Private Personal Training Studio
. Danny & Theresa Gordon are the proud owners & founders of The Body Studio for Fitness! Their Studio is the longest lasting fitness facility in Foster City, CA
The Body Studio
specializes in one on one personal fitness training. Training is by appointment only!
This journey started 21 + years ago. Danny and Theresa were both were having the same experiences, trying to train their clients in the crowded and uncontrollable atmosphere of the gym setting. They decided it was time to make a change. They both agreed their personal training clients would have a much more rewarding experience training in a more private setting.
In 1996, they opened The Body Studio for Fitness, Personal Training Studio, in San Mateo, CA. It was not easy, but Danny & Theresa were determined to make their dream a reality. They expanded, only two years after opening, due to growing success. They opened a wall, and expanded into the storefront right next to them. Business continued to grow, so, after 5 years, they branched out to Foster City & opened up their beautiful 3,500 square foot studio, right along the San Francisco Bay Trail. Eventually because of the beautiful studio & unlimited parking at their Foster City location, Danny & Theresa moved all their clients to their flagship studio in Foster City. Wow, what a journey for them both. They are both as passionate about personal training and lifestyle coaching as when they started. Danny and Theresa help their clients daily with exercise coaching, nutritional coaching, and lifestyle coaching, so they can all achieve success with their health & fitness goals!
Danny & Theresa Gordon know they are truly blessed. They also know none of this would have been possible without their powerful phrase Don't Give It Power! They both live by it daily and so do their clients!
Checkout their other website & pages for strength & guidance!
Don't Give it Power
Don't Give It Power Facebook Page
Don't Give It Power Twitter Page
Contact Danny & Theresa along with their team of trainers. They have many years of experience & you won't be disappointed!
Continuing Education & Independent Study Certificates:
American College of Sports Medicine (Personal Training Certification)
American Council on Exercise (Personal Training Certification)
Health & Fitness Institute (Personal Training & Strength Certification)
Exercise & Core Strength, Curtis Hickey, MS
Designing Interval Program, Curtis Hickey, MS
Exercise & the Shoulder, Jeannie Patton, MS
PNF & Strength Training, Jeannie Patton MS
Exercise & Training, Dr Len Kravitz
Getting to the Heart of Cardiovascular Disease in Women By Jenna A. Bell-Wilson MS,,RD, LN
Breast Feeding for the Active New Mom by Janet Weller, RN
Over Weight & Obesity by David Stacher,
Gender Differences in Fat Metabolism by Chantal Vella and Len Kravitz
The Psychology of Exercise by Jim Gavin and Avi Mark Spitzer
Programming for Real Women by Dawn Braud, MS
Exercise & Training, Cheryl Soleway,
The Skill to Prescribe Exercise, Cheryl Soleway,
Implementing Practical Programs Resist-a-Ball Workout, Trish Muse MS, LPT,
Women Exercise & Metabolism, Mark Poisall, MS
Upper Body Compound Training, Mark Madole
Lower Body Compound Training, Mark Madole
Kick Fit Cardio Kick-Boxing Certified
Functional Exercise and Nutrition, Dr. Len Kravitz
Functional Exercise and Training, Dr. Len Kravitz
Exercise After Bariatric Surgery, Ginger Patterson, PhD
TRX Suspension Training Course, Fraser Quelch Head Coach and Director of Training
Exercise Shows & Videos:
Get Fit With Theresa & Dan, Exercise Cable TV Show, (2 tapings) 97
Theresa & Dans Simple Secrets to a Better Body, Exercise Video, 10/02
Apperances, Channel 5 TV
Apperances, Channel 4 TV
The Body Studio for Fitness
1455 Beach Park Blvd
Foster City, Ca 94404
650-212-5000
info@bodystudioforfitness.com
---